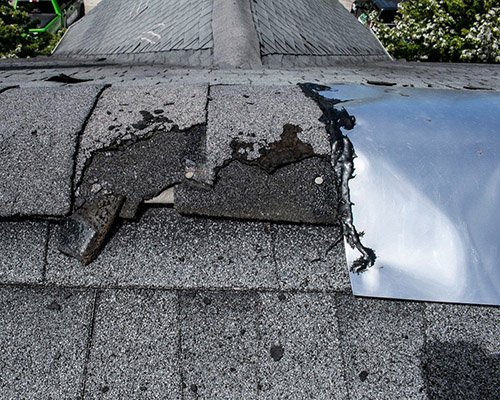 When storms damage your home, you need the most trusted roofers in your area. Premier Roofing and Renovations will inspect your roof for storm damage as well as work with your insurance about a roof replacement if you need one.
Premier Roofing and Renovations, South East Michigan's most trusted roofing company, has years of experience not only with roof replacements, but with navigating the homeowners insurance to get clients the best value for their new roof.
Premier Roofing and Renovations Thorough Storm Damage Roof Inspections and Quality Roof Replacements
Storm Damage Roof Inspection

When high winds have ripped off shingles or flying debris has damaged your siding, you may be worried about the cost to repair your home. You may be worried whether insurance will cover the repair cost. The only way to set your mind at ease is to get a professional roof inspection from a trusted local roofing company – like Premier Roofing and Renovations.

Here are the top reasons to get your roof inspected after a storm:

Trained roofers know what different types of storm damage look like, even signs of roof damage that you'll miss if you're just looking at your roof from the ground.
They'll catch smaller issues like damaged shingles and minor leaks that can quickly grow into larger roof problems if left untreated.
They understand all the parts of your roof and what whole, properly installed, roof parts look like. Do you know what flashing is? How about a vent? Most homeowners don't, but a trained roofer will.
Locating and fixing these kind of minor issues before they get worse will get save you money over the long term.
Let our roofing professionals help you navigate the insurance claims process! We know what to say and how to present damage to get the best coverage for repairs or roof replacement.

Insurance Roof Replacement

Did you know that you are currently paying for roof coverage within your insurance policy? We do! The good news is that your insurance will not only cover roof repairs, but a full roof replacement if you need it.

With years of experience working with homeowners insurance companies, we know how to present the damage to your roof and home exterior in the ways needed in order to cover your roof replacement.

Unfortunately, not every homeowner qualifies for insurance roof replacement, but the roofing experts at Premier Roofing and Renovations can help you make that determination. Even without insurance, we will work with you to get you the storm damage repair or roof replacement you need to keep your home safe.
Premier Roofing and Renovations: Trust Our Experts After a Storm
Our licensed and bonded roofing experts work for you, with your insurance company. We will work directly with you to get your home protected again. We are a full service, storm restoration company. We replace not only roofs, but also sidings and gutters!
Got serious roof damage after a storm? Call Premier Roofing and Renovations right away!