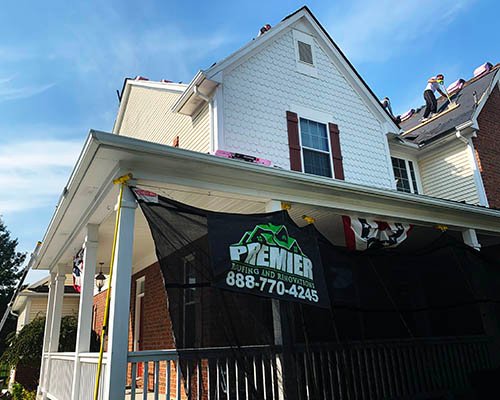 Many homeowners don't understand enough about their roof, how it protects your home and what can go wrong. When your roof has a problem, you need to contact the most reputable roofers in your area, especially if you need a roof replacement.
The roofing professionals at Premier Roofing and Renovations want our local homeowners to understand their roofs and be prepared for their roofing needs, so we've answered some of the most common questions about their roofs.
Common FAQs About Your Roof
How long does a roof last?

A well-maintained and properly installed asphalt shingle roof can last anywhere from 20 to 35 years. If you've just bought your home and aren't sure how old your roof is, then you should schedule a professional roof inspection with your trusted local roofing company. They can help you develop a budget for roof maintenance and improvement.

How can I make my roof last longer?

Even the best roofing materials will deteriorate over time, but homeowners can extend the life of their roofs with proper roofing maintenance services. These include getting missing shingles replaced and removing debris after a storm.

What kind of roofing repair services can help my roof last longer?

For every roof issue, your trusted local roofers have a repair service that can help, and if things get too bad, they can help you budget for a full roof replacement. Roof repair services include:

Shingle replacement
Flashing repairs
Roof coatings
Roof decking replacement
Vent replacements or repairs
Gutter and siding repairs
Total roof replacement

How do I tell if my roof is failing?

Leaks are the biggest sign of failures in roofing materials, such as shifted or missing shingles, of course, but your roof can show more subtle signs of wear as well. Leaks are only the water that has gotten all the way into the interior of the home. Water can also affect roof underlayment, decking, and even supports, soaking into wooden roof parts without leaking all the way through. The only way to know whether it's time to replace your roof is to get a roof inspection.

What happens if my roof needs to be replaced?

While a roof replacement can seem daunting to most homeowners because of expense, it is also a chance to improve your home's protection and end worries about roof leaks. With a reroof, you get to install better roofing materials that will restart the clock on your roof's lifespan. A roof replacement is also a good time to consider getting gutters to protect your investment.
Premier Roofing and Renovations: Your Trusted Roofing Experts
Our roofing crew has years of combined roofing experience in all types of roof servicing ranging from storm damage repair to roof replacements and new roof installations. We're certified Owens Corning Roofing Platinum Preferred Contractors, and we can provide the highest quality roofing materials for every job.
Contact the roofing experts at Premier Roofing and Renovations, the most trusted roofers in South East Michigan!