With decades of combined experience, Premier Roofing and Renovations is the top roofing and exterior renovation contractor in Troy MI and surrounding communities. We got there by working with integrity and an eye for detail, whether we're installing gutters or replacing a roof. Our service experts are also available 24 hours per day, 7 days a week, and 365 days a year.
Best Roofing Services in Troy MI
All our roofers and construction contractors are fully bonded and insured for all work in Michigan, Ohio, and Indiana.
We're certified and accredited by the Better Business Bureau, HAAG, as well as roofing and construction material manufacturers like Owens Corning and CertainTeed.
We're a family operated business that is dedicated to our customers, treating them like family and approaching every job with integrity.
Explore Troy MI
With a 2020 population of just under 90,000, Troy MI is the most populous city in Michigan's Oakland County. It's considered a northern suburb of Detroit as it's only 16 miles northwest of downtown. The city's motto is "The City of Tomorrow…Today," and it is considered one of the safest communities in the area, a great place to live with an affordable cost of living, as well as a shopping and business destination in the area. The Troy Historic Village also preserves the area's history with buildings dating back to the town's founding in 1827 as well as history exhibits. All in all, Troy Michigan is a well-rounded fun city to visit, only miles from urban Detroit and Lake St Clair.
There's a lot more to do in Troy besides visit the historic district, including water fun for the whole famil at Red Oaks Waterpark and the Troy Family Aquatic Center. The Clinton River Trail is a great place to hike or bike, and River Bends Park features lovely views as well as outdoor activities like archery and disc golf. The Stage Nature Center has hiking trails and lots of learning activities for adults and kids alike. Whatever you like to do on vacation, Troy has something to offer!
As the most experienced and reputable roofers in Michigan, Premier Roofing & Renovations is the company homeowners call when they discover problems with their homes' exteriors. Our team was recently called to inspect a customer's roofing in Troy, MI. Our thorough inspection found that the previous roofers had made incorrect repairs to the exterior siding and roofing materials.
Incorrectly installed siding can cause several problems in a house, including water infiltration, which can lead to rotting of the wooden frame, mold growth, and damage to the interior walls and ceilings. Because of these problems, homeowners save money by contacting a reputable company like Premier Roofing & Renovations.
Reputable contractors stand out from others by their commitment to high-quality work, transparency in pricing and services, and willingness to provide work warranties. On the other hand, unprofessional roofers may use subpar materials and cut corners, leading to poor results, as our Troy, MI, homeowner found out. Their home was suffering from leaks from the incorrectly installed siding, which had caused decking and interior ceiling damage.
For this roofing project, our crew replaced the damaged decking by performing a roof replacement. Our process involves removing the existing roof system and repairing any underlying structural damage. The new roof system typically includes a layer of insulation, underlayment, and roofing materials. We also correctly reset the siding to prevent water from getting behind the wall. The client was delighted with the results and expressed relief in finally having the roof fixed correctly and not worrying about leaks anymore.
Don't let a damaged or leaky roof cause further damage to your home. Take action now by contacting Premier Roofing & Renovations for all your repair and replacement needs. Our experienced team of professionals is dedicated to providing top-quality service and using only the best materials to ensure your roof is secure.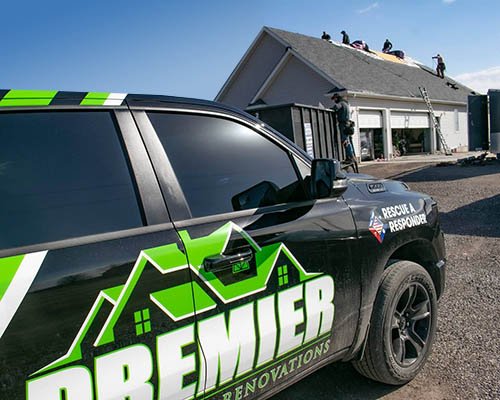 Roofing in Troy, MI can last for decades, but it's also subject to stress from weather all year round from snowstorms to summer thunderstorms. Homeowners in Troy MI and surrounding areas question whether it's time to replace their roofs and seek the help of a professional roofing company.
In Michigan, Premier Roofing and Renovations is the trusted company for reroofing and roof replacement services. No matter how old your roof is, we'll upgrade it to a more efficient roof material and increase the protection of your home.
When to consider roof replacement in Troy, Michigan?
The answer to this question depends a lot on the type of roofing you have on your home, but there are some general rules for how often you should replace your roof.
Asphalt shingles can last for up to 20 years, so you should get your asphalt shingle roof replaced every 15 years or so to keep it from developing structural problems.
Low slope or flat roofs can last up to 25 years with proper roof maintenance, so flat roofing should be replaced every twenty years.
No matter how old your roof is, you should alway replace your roof if there is structural damage to the roof decking or supports, which shows up as roof sagging or repeated leaks.
When it's time to upgrade your roofing, call Premier Roofing and Renovations, Michigan's trusted roofing company for roof replacements.
If you're a Michigan homeowner considering replacing your roof, get the opinion of the most reputable roofing experts in your area! Contact Premier Roofing and Renovations for a free roof inspection and consultation.